Jo Ann Bushart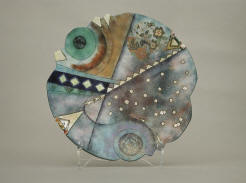 JoAnn Bushart, acclaimed craftsman in metal and glass and one of the founding artists of the Upstairs Gallery - passed away on December 3, 2021
FROM HER OBITUARY - Arlington, Texas - JoAnn Brown Bushart went to the Lord on December 3, 2021. She was ninety-three years old.
An award-winning artist, JoAnn opened the Rock House Gallery in Arlington in 1983. She was born May 27, 1928, and raised in El Dorado, Arkansas, the daughter of Robert Richard Brown of Honey Grove, TX and Carrie May Wilson of El Dorado, AR. She was a 1946 graduate of El Dorado High School and obtained her BFA degree from the University of Arkansas, where she met her husband of 71 years, Graydon Justin Bushart, Jr., a native of Fort Smith, Arkansas. They married on October 28, 1950, and moved to Arlington, Texas shortly thereafter, where he was employed by Vought Aircraft, later the LTV Corporation.
JoAnn was engaged in the nascent art movement in Arlington in the 1970s, showing her jewelry at the Upstairs Gallery, and joining in creation of the Arlington Art Association. Her Rock House Gallery and studio on Abrams Street represented craft artists in fiber, jewelry, pottery and other three-dimensional art and craft work forms. She loved the fellowship of other artists and promoted hers and other galleries in the annual Gallery Night event. But selling her work never compared to the joy of creating and teaching, which she did prolifically, working in her own studio, and moving through the mediums of metalsmithing and jewelry to glass, to glass on copper, also known as enameling, which was her passion in later years. 
JoAnn will be greatly missed by the Upstairs Gallery family.
.